Lap Joint flanges are used on piping fitted with with lapped pipe or with lap joint stub ends. The lap joint flange with the stub end assembly are normally used in systems requiring frequent dismantling for inspection and cleaning and where the ability to swivel flanges and to align bolt holes materially eases the erection of large diameter or unusually stiff piping. These flanges are also used in applications where there is a need to facilitate bolt alignment. These type of flanges are similar to slip-on flanges. The only difference is that it has a curved radius at the bore and face to accommodate a lap joint stub end. They may be used at all pressures and are available in a full size range. These lap joint flanges slip over the pipe, and are not welded. They are otherwise fastened to it. Here the bolting pressure is transferred to the gasket by the pressure of the flange against the back of the pipe lap.
Dimensions
Diameter : 1/2" à 24"
Pressure class : 150# - 300# - 600# - 1500#
Standards
ASTM A182 - ASME SA182 - 'Standard Specification for Wrought Austenitic Stainless Steel Piping Fittings'
ASME B16.5- 'Pipe Flanges and Flanged Fittings'
MSS SP-6 - 'Standard Finishes for Contact Faces of Pipe Flanges and Connecting End Flanges of Valves and Fittings'
The tables below show the most common sizes but are not exhaustive.
---
150 Lbs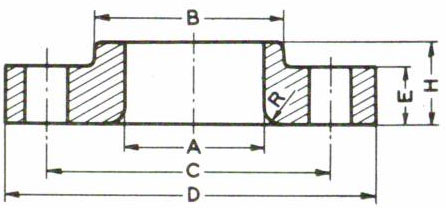 Drilling
Nominal Bore
Dia.
(D)
Thick.
(E)
Dia.
(B)
Dia.
(A)
Height
(H)
Nbr
Holes
Dia.
(C)
1/2"
90
11.2
30
22.9
16
4
15.87
60.3
3/4"
100
12.7
38
28.2
16
4
15.87
69.9
1"
110
14.3
49
34.9
17
4
15.87
79.4
1 1/4"
115
15.9
59
43.7
21
4
15.87
88.9
1 1/2"
125
17.5
65
50.0
22
4
15.87
98.4
2"
150
20.7
78
62.5
25
4
19.05
120.7
2 1/2"
180
22.3
90
75.4
29
4
19.05
139.7
3"
190
23.9
108
91.4
30
4
19.05
152.4
3 1/2"
215
23.9
122
104.1
32
8
19.05
177.8
4"
230
23.9
135
116.8
33
8
19.05
190.5
5"
255
23.9
164
144.4
36
8
22.22
215.9
6"
280
25.4
192
171.4
40
8
22.22
241.3
8"
345
28.6
246
222.2
44
8
22.22
298.5
10"
405
30.2
305
277.4
49
12
25.40
362.0
12"
485
31.8
365
328.2
56
12
25.40
431.8
14"
535
35.0
400
360.2
79
12
28.57
476.3
16"
595
36.6
457
411.2
87
16
28.57
539.8
18"
635
39.7
505
462.3
97
16
31.75
577.9
20"
700
42.9
559
514.4
103
20
31.75
635.0
24"
815
47.7
663
616.0
111
20
34.92
749.3
The dimensions are in millimeters
Source : ASME B16.5 - 2007
---
300 Lbs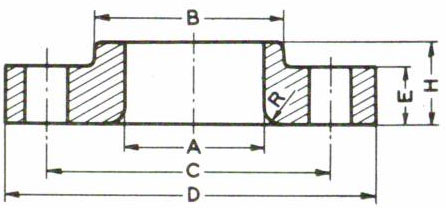 Drilling
Nominal Bore
Dia.
(D)
Thick.
(E)
Dia.
(B)
Dia.
(A)
Height
(H)
Nbr
Holes
Dia.
(C)
1/2"
95
14.3
38
22.9
22
4
15.87
66.7
3/4"
115
15.9
48
28.2
25
4
19.05
82.6
1"
125
17.5
54
34.9
27
4
19.05
88.9
1 1/4"
135
19.1
64
43.7
27
4
19.05
98.4
1 1/2"
155
20.7
70
50.0
30
4
22.22
114.3
2"
165
22.3
84
62.5
33
8
19.05
127.0
2 1/2"
190
25.4
100
75.4
38
8
22.22
149.2
3"
210
28.6
117
91.4
43
8
22.22
168.3
3 1/2"
230
30.2
133
104.1
44
8
22.22
184.2
4"
255
31.8
146
116.8
48
8
22.22
200.0
5"
280
35.0
178
144.4
51
8
22.22
235.0
6"
320
36.6
206
171.4
52
12
22.22
269.9
8"
380
41.3
260
222.2
62
12
25.40
330.2
10"
445
47.7
321
277.4
95
16
28.57
387.4
12"
520
50.8
375
328.2
102
16
31.75
450.8
14"
585
54.0
425
360.2
111
20
31.75
514.4
16"
650
57.2
483
411.2
121
20
34.29
571.5
18"
710
60.4
533
462.3
130
24
34.29
628.6
20"
775
63.5
587
514.4
140
24
34.29
685.8
24"
915
69.9
702
616.0
152
24
41.27
812.8
The dimensions are in millimeters
Source : ASME B16.5 - 2007
---
600 Lbs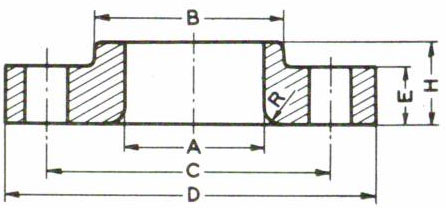 Drilling
Nominal Bore
Dia.
(D)
Thick.
(E)
Dia.
(B)
Dia.
(A)
Height
(H)
Nbr
Holes
Dia.
(C)
1/2"
95
14.3
38
23.6
22
4
15.87
66.7
3/4"
115
15.9
48
29.0
25
4
19.05
82.6
1"
125
17.5
54
35.8
27
4
19.05
88.9
1 1/4"
135
20.7
64
44.4
29
4
19.05
98.4
1 1/2"
155
22.3
70
50.6
32
4
22.22
114.3
2"
165
25.4
84
63.5
37
8
19.05
127.0
2 1/2"
190
28.6
100
76.2
41
8
22.22
149.2
3"
210
31.8
117
92.2
46
8
22.22
168.3
3 1/2"
230
35.0
133
104.9
49
8
25.40
184.2
4"
275
38.1
152
117.6
54
8
25.40
215.9
5"
330
44.5
189
144.4
60
8
28.57
266.7
6"
355
47.7
222
171.4
67
12
28.57
292.1
8"
420
55.6
273
222.2
76
12
31.75
349.2
10"
510
63.5
343
276.2
111
16
34.92
431.8
12"
560
66.7
400
328.6
117
20
34.92
489.0
14"
605
69.9
432
360.4
127
20
38.10
527.0
16"
685
76.2
495
411.2
140
20
41.27
603.2
18"
745
82.6
546
462.0
152
20
44.45
6654.0
20"
815
88.9
610
512.8
165
24
44.45
723.9
24"
940
101.6
718
614.4
184
24
50.80
838.2
The dimensions are in millimeters
Source : ASME B16.5 - 2007